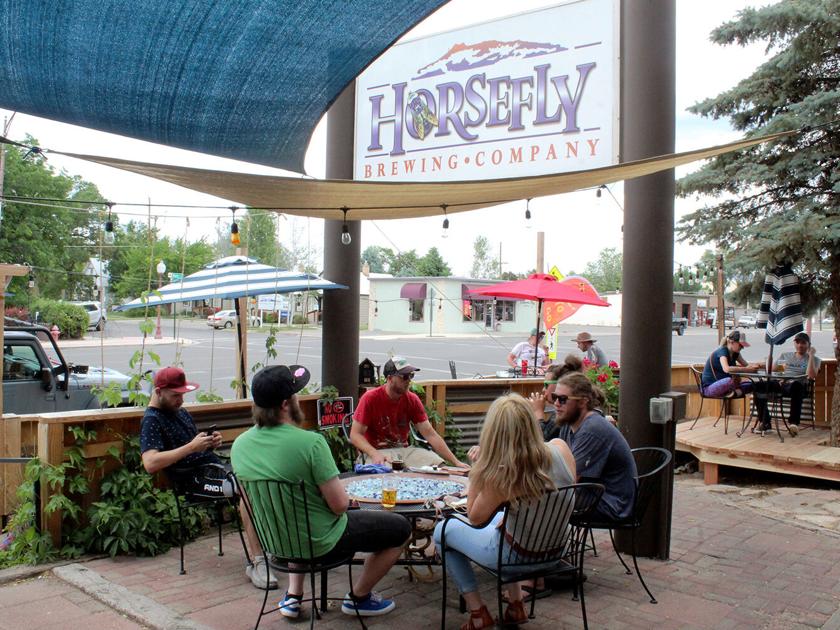 Customers enjoyed their Friday afternoon at Horsefly Brewing Company as the state's guidelines allowed businesses to have limited reopenings during the coronavirus. Tables were spaced throughout the premise and customers were required to wear masks when not at their tables.
Curated by infrared fever screening system
Montrose restaurants are starting to look more normal as the community enjoys time in the outdoor dining area at Horsefly Brewing Company Friday afternoon. While operating at a limited capacity, restaurants are separating tables to ensure social distancing guidelines are met.
Customers share a laugh with their waitress at Horsefly Brewing Company Friday afternoon. Customers are required to wear masks while walking through the restaurant and staff wear masks while serving customers.
Staff writer and digital content coordinator
With Coloradans enjoying the great outdoors this summer, the Colorado Department of Public Health and Environment released new guidance for personal and outdoor recreation as well as updated guidance for houses of worship Thursday. Colorado Governor Jared Polis also launched a campaign encouraging Coloradans to wear masks.
Polis signed an executive order that gave business employers and operators authority to refuse service to customers who fail to wear a mask or face covering as the state health department released finalized guidance for places of worship, outdoor recreation and personal recreation. The order went into effect immediately.
Contained in Polis' public service announcement "Our Masks are Our Passport to the Colorado We Love," he encourages Coloradans to wear masks as much as possible outside the home. Watch the governor's PSA.
"The modeling shows that if we want to avoid a catastrophic breach of our healthcare system, and if we want to re-open our economy to a greater degree, then masks are absolutely essential," he said. "Here in our great state, your mask is your passport to the Colorado we love, and will play an important part in keeping yourself and those around you safe."
The CDPHE's guidance documents parallel drafted information released to stakeholders earlier this week. The new documents are another step toward restoring Coloradans' recreational functions after COVID-19 prompted the state to close public places to slow the spread of the virus.
The guidance outlines steps required to allow personal and outdoor recreation activities to resume while keeping in mind that the virus is still out there and can spread. Within the guidance, the CDPHE addresses recreational activities at parks, pools, fitness facilities and organized recreational sports as well as outdoor recreation like rafting, fishing and horseback riding.
The CDPHE guidelines state personal recreation can occur in groups of 10 or less with participants maintaining at least 6 feet of distance, wearing face coverings as feasible and observing appropriate disinfection and hygiene practices. When engaging in outdoor recreation, CDPHE encourages the public to bring hand sanitizer to clean their hands when soap and water is unavailable.
Under the new CDPHE guidance, activities that can be done in groups of 10 people or less while maintaining proper social distancing and taking hygiene precautions can take place, unless such activities are prohibited in the public health order.
For gyms, rec centers and indoor recreational facilities, owners can operate at up to 25% capacity or 50 people per room as long as everyone maintains 6 feet of separation. That language was updated from the draft documents, which stated people recreating would be allowable in groups of 10 people within a room.
Outdoor swimming pools can reopen up to 50% capacity or 50 people under the new guidelines.
Guidance for houses of worship were also updated and expanded, viewable at https://bit.ly/378wUGP. According to the "Safer at Home: Places of Worship information, the CDPHE said, "The safest option to protect the most people and prevent the spread of the virus is to offer services online during this phase of the pandemic."
People who are at higher risk of severe illness from COVID-19, including people 65 years and older and people with underlying health conditions, are encouraged to continue using online options for worship.
For houses of worship and settings where life-rites occur, including funeral homes or venues for wedding ceremonies, the CDPHE set capacities for in-person services. For indoor services, the maximum capacity is 50% or up to 50 people per room, whichever is fewer. Outdoors, people from different households must be spaced at least 6 feet apart with the capacity determined by local capacity levels.